Recently, Dr. Wang Xuchu and his research team of TBBRI, collaborating with Prof. Guo Anping and Peng Ming, made important progress in starch accumulation mechanism in cassava roots, which revealed that the enzyme-binding proteins and 14-3-3 proteins played important roles in regulating starch accumulation and root tuberization of cassava. These results were published on Scientific Reports (January 21, 2016, IF 5.578) (http://www.nature.com/articles/srep19643). As we all know, Scientific Reports is a comprehensive academic journal, belonged to the sub-journal of Nature, which emphasize the originality and advanced nature of the research work, cover all areas of the natural sciences and is highly recognized by national and international scholars.

A total of 154 identifed proteins were found to be differentially expressed during starch accumulation and root tuberization. Functional classifcation of the differentially expressed proteins demonstrated that many enzymes involved in energy metabolism, starch and sucrose metabolism, as well as binding-related enzymes played important roles in starch accumulation and root tuberization. Among them, the 14-3-3 protein with enzymatic binding activity played key regulation roles. Overexpression of a cassava 14-3-3 gene in Arabidopsis thaliana confrmed that the leaves and roots of these transgenic plants contained higher soluble sugar and starch contents than the wild-type plants.

Given this proteomics of cassava tuberous roots and the results of recently published results, the team of Dr. Wang Xuchu proposed a possible schematic regulation of the DEPs involved in starch accumulation and enlargement in the cassava storage roots (Fig. 1).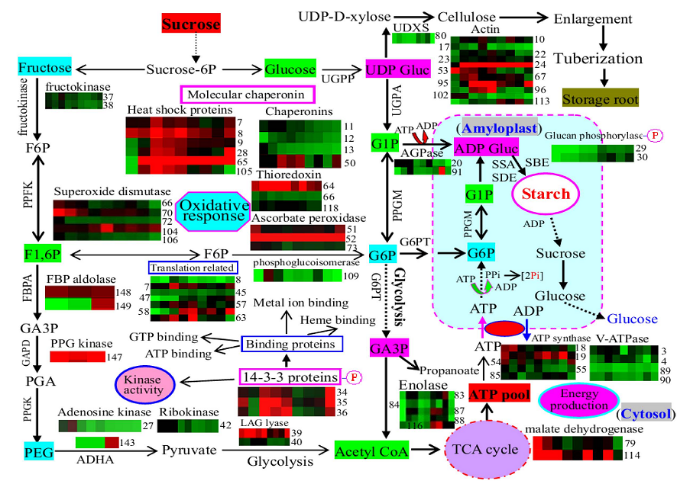 Fig. 1 Schematic representation of the enzymes and major biological pathways involved in carbohydrate metabolism and starch accumulation during cassava storage root enlargement.

These results not only fully described the important proteins involved in carbon metabolism and starch accumulation during root tuberization, but also found that protein phosphorylation may play crucial roles in controlling the accumulation of starch, which would provide new candidate proteins for directional molecular breeding of cassava and provide a new theoretical basis for the cultivation of high starch cassava varieties.
This work was supported by the National Natural Science Foundation Grants of China (No. 31400217) and the National Basic Research Program (973) of China (No. 2010CB12660-2,-5).