CATAS has gained great achievements in scientific research on tropical agriculture, especially recently in the fundamental research fields in cassava, rubber, banana and other tropical crops. It has made significant breakthrough in researches on a draft sequence of the cassava, decoding the fungi genome of banana fusarium wilt, latex producing mechanism of rubber tree, etc. In applied researches, CATAS concentrates its efforts to meet the practical needs of the tropical agriculture sector with continuous release of new technology and crop varieties of rubber, cassava, fruit, spice & beverage and other tropical crops. By so doing, CATAS has contributed greatly to social-economy and rural development of tropical China, to the provision of security and safety of tropical agriculture products to the country, to gradual increase of farmers' income, and to poverty alleviation in tropical area of the country in particular.

CATAS has successively completed a number of state key research projects and some projects funded by international organizations such as UNDP, FAO, ADB and cooperation projects with CIAT. It has accomplished over 1000 scientific and technological achievements, among which 50 were awarded state prizes with one First Prize for State Invention and one First Prize for State Science and Technology Progress, over 400 were awarded ministerial and provincial prizes. Some 200 or more of these achievements were in the form of innovative products, and some were patented to give rise to a total of 500 patents, in addition to large number of scientific publications.
1
.
Science and technology innovation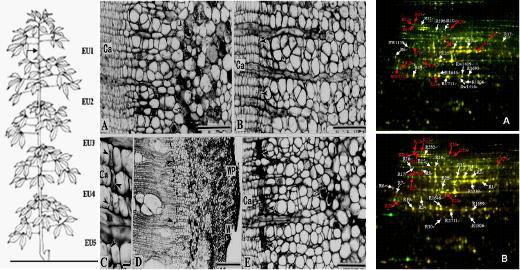 The regulation theory of latex yield of rubber tree is by far in a leading position
Completion of the cassava genome sequencing and gene annotation to clarify the efficient accumulation of starch and high stress resistant mechanism of the crop.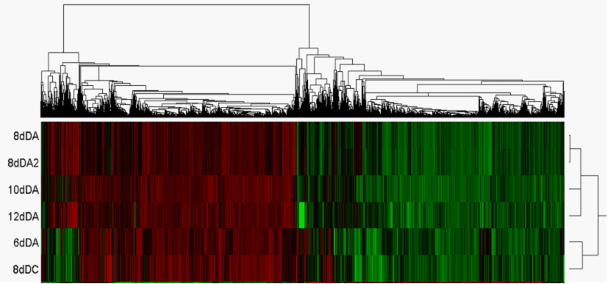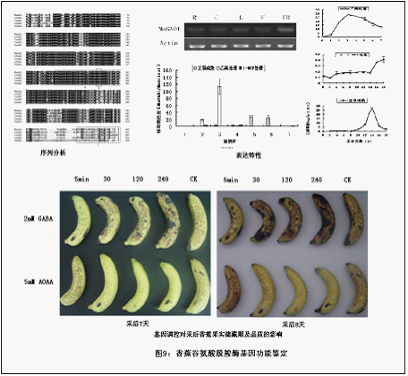 Clarify the molecular mechanism governing banana fruit ripening and quality; complete genome sequencing of Fusarium Wilt of banana physiological race 1, 4, and first in the world decode Banana Fusarium oxysporum genome, providing an important foundation for the study of the pathogenic mechanism of the disease.

2. Fundamental research
Research on the mechanism of rubber tree tapping panel dryness, TPD
Identified the function of HbMyb1 gene associated with the rubber tree TPD by over-expressing in tobacco, the result was innovative to the mechanism of rubber tree TPD disease, drawing the attention of the international counterparts.
3. Tissue culture of rubber tree seedling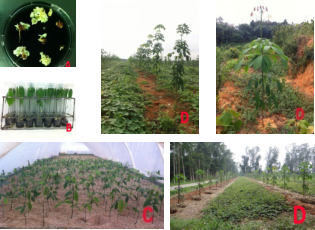 Through nearly 40 years efforts, CATAS scientists solved the teething technical problem of low efficiency in rubber seedling propagation so as to enable industrialization of juvenile planting materials production that is conducive to higher latex yield and hence farmers' income.

4.Applied research

New technology of latex harvesting
Through 30 years of researches and trial applications, a package of methods to improve latex production were invented including reduced number of tapping, shallow cut, and adequate nutrients supplements. The tapping technology includes technique of dynamic analysis of latex production, continuously progressive stimulated tapping, low concentrations of stimulants and short cycle of stimulated tapping with compound formulation ethephon, etc. This new technology is applied in main rubber planting areas of China, which has brought additional US$ 1.6 billion to farmers. It was granted the second prize of State Science and Technology Progress Award in 2006.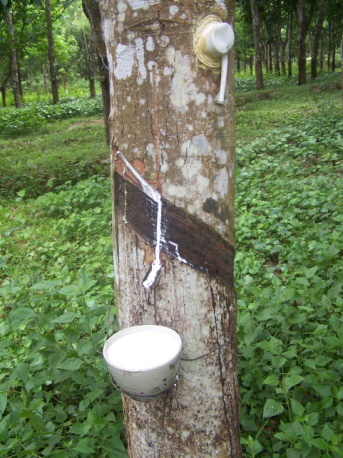 Extension of South China Series of cassava varieties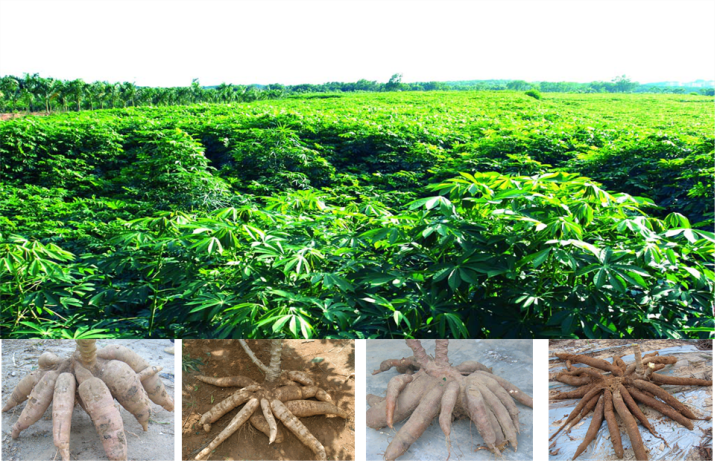 Some new additions to South China series of cassava variety bred by CATAS has been extended to 35 cities and counties in Hainan, Guangdong, Guangxi and Yunnan provinces of China, and the planting area is about 133 000ha. This achievement was given the second prize of State Science and Technology Progress Award in 2009.
Innovative utilization of characterSTIRIc tropical crop germplasm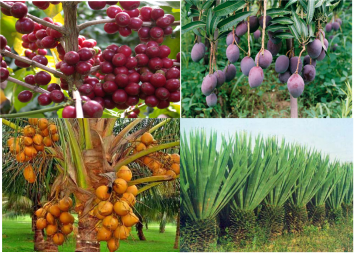 One of CATAS endeavors is to collect, conserve, evaluate and innovatively use of genetic resources of tropical crops, such as mango, pineapple, sisal and coffee, etc. Through 30 years of selection and breeding efforts, CATAS has bought about 34 new varieties, and established corresponding cultivation technology systems including seedling production, which are widely grown in 5 provinces of South China, with planting areas at about 1200 000 ha. This achievement won the second prize of State Science and Technology Progress Award in 2012.

Product processing of some tropical crops

For value addition, CATAS developed a series of technology and machinery for the processing of a number of tropical crops products. In collaboration with commercial food and cosmetic companies such as Hainan Coconut Juice Beverage Co. Ltd. and Hainan Yeguo, as well as other research institutions, CATAS and its collaborators formed packages of products processing technology and equipment for some tropical crop products with independent intellectual property rights, which completely changed the poor status of tropical crop product processing in China, providing theoretical basis and technical support for the realization of the great-leap-forward development from "workshop" to modern machining. This achievement was presented the second prize of State Science and Technology Progress Award in 2010.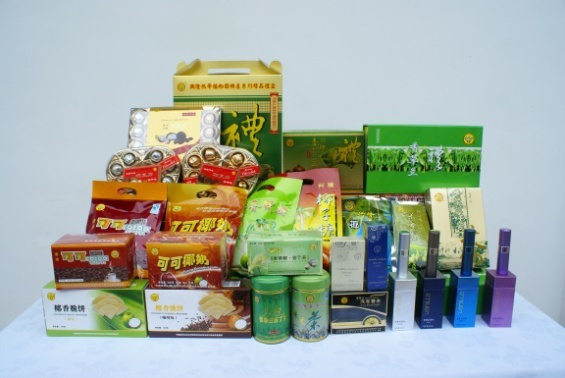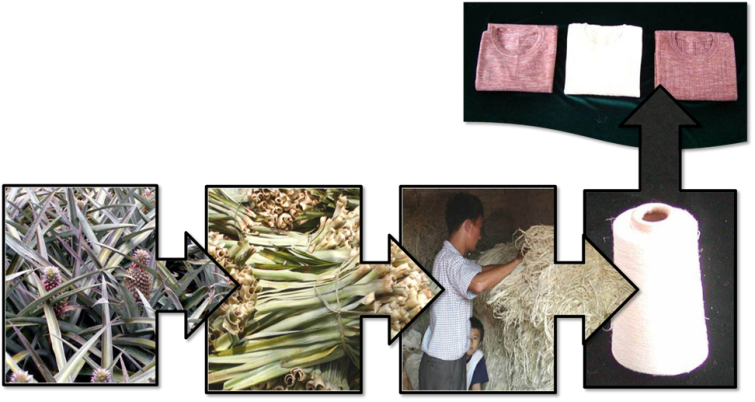 Industrialization of banana tissue culture technology
On the basis of screening out an excellent exotic banana cultivar Williams, a Brazilian variety suitable for Hainan planting, tissue culture technology for the cultivar and other banana lines was developed before a tissue culture plant set up for commercialized production of banana seedlings through tissue culture. An annual production of 40 million plantlets was achieved, which accounted for about 80% seedling supply of Hainan Province. This achievement was awarded the special prize of Hainan Science and Technology Achievement Transformation in 2005.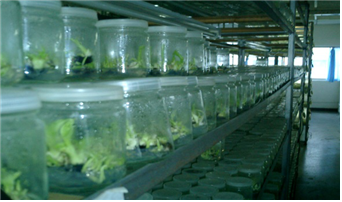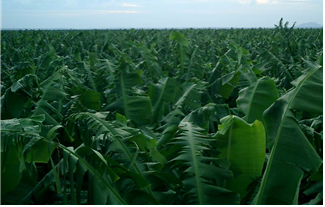 Application of natural rubber standardized processing technology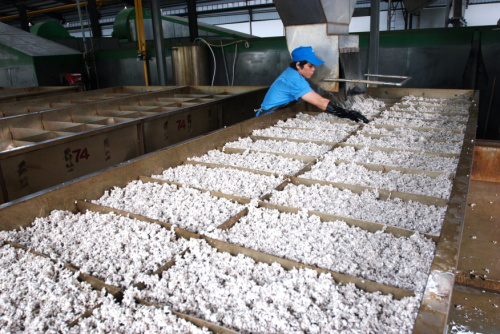 The application of natural rubber standardized processing technology improved qualification rate of rubber product to 98%, of which first class product rate was over 95% with lower cost. This achievement obtained the second prize of State Science and Technology Progress Award in 2008.

Using parasitic wasps to control major invasive pest of coconut leaf beetle
The coconut leaf beetle Brontispa longissima (Gestro) damaged coconut trees seriously and caused great loss to coconut farmers. Through systematic biology and ecology research on the beetle and its natural enemies, parasitic wasps, Asecodes hispinarum and Tetrastichus brontispa Ferrière, CATAS developed a set of advanced, simple, easily-promoted breeding and release technology of those parasitic wasps to control the pest. This achievement was given special prize of Hainan Science and Technology Progress Award in 2010.

Service for agriculture, rural areas and farmers
CATAS has been conducting extension projects of agricultural science and technology, serving agriculture, rural development and farmers, establishing science and technology demonstration bases of rubber tree, cassava, tropical fruits and tropical forage etc. to promote new varieties and new technology in tropical areas of 9 China provinces, and even foreign countries, e.g., the Republic of Congo and Cambodia. Cooperating with other China and world agricultural research institutions, CATAS has strived hard to foster industrial upgrading and development of modern tropical agriculture.