Website: http://rri.catas.cn/en/
1. Overview
Rubber Research Institute, Chinese Academy of Tropical Agricultural Sciences (CATAS-RRI), the only national institute mainly specializing in research and development of rubber tree (Hevea brasiliensis) in China, was set up by the Central Government of China in Guangzhou in 1954 and owed its origin to the South China Institute of Special Forestry, CATAS-RRI was relocated from Guangzhou to the present site, Danzhou, Hainan Province in 1958.
CATAS-RRI has a total of 190 staff members and is composed of six research divisions, viz. Economics, Breeding, Agronomy, Soil and agro-chemistry, Latex harvesting, and Rubber wood utilization, and one technical support centre. CATAS-RRI is also the supporting organization of "National Natural Rubber Research System", "State Center for Rubber Breeding", "Key Laboratory of Biology and Genetic Resources of Rubber Tree, Ministry of Agriculture", "Preparatory State Key Laboratory of Cultivation & Physiology for Tropical Crops", "State Engineering Technology Research Center for Key Tropical Crops", "Danzhou Investigation and Experimental Station of Tropical Crops, Ministry of Agriculture", "State Rubber Tree Germplasm Repository", which are well equipped with advanced instruments and equipment and large-area experimental bases. All these affiliates are good innovation platforms for R & D in rubber tree.
The key research fields of CATAS-RRI include genetics and breeding, cultivation principle and technology, latex harvesting principle and technology, sustainable rubber production principle and technology, economics in natural rubber industry, rubberwood utilization, etc. Transfer of technology (TOT) is an important activity of CATAS-RRI and the TOT activities include technical extension, farmers' training courses and a 24-hour technical service hotline opened specially for farmers.
CATAS-RRI is a prestigious research institute in the world natural rubber scenario through its R & D contributions in the non-traditional areas and has played an important role in achieving high productivity in China through R&D innovations and technology transfer.
2. Contact Information
Research Office: Tel: +86-898-23301209
Fax: +86-898-23300315
E-mail: rubberri@163.com
Address: Baodao Xincun, Danzhou, Hainan, 571737, P. R. China
3. Research Areas
CATAS-RRI research priorities are improvement in production and productivity through breeding and selection of location-specific clones with high yield and better stress tolerance, molecular biology and engineering, and disease and pest management; integrated approaches to reduce cost of production and to improve quality competitiveness through efficient field management systems, latex harvesting systems to raise the efficiency of labour; investigation on natural rubber markets and socioeconomic aspects. Research fields include genetics and breeding, agronomic principle and technology, soil and fertilizer, latex harvesting principle and technology, biology and ecology, biotechnology, rubber wood utilization economics of natural rubber.

Clone Reyan 7-33-97 polybagged seedlings and its growth
4. Main Achievements
CATAS-RRI has made over 140 research achievements, most of which have been applied in commercial production already. The efforts on the large-scale commercial cultivation of rubber tree in the marginal areas of the north fringe of the Tropics and the introduction of rubber tree clones from traditional rubber growing countries have made great contributions to natural rubber industry development in China and won the First Prize of State Award for Invention and the First Prize of the State Science and Technology Progress Award respectively. Three of the senior scientists, Professors HAO Bingzhong, WU Jilin and CHEN Qiubo, won the IRRDB Gold Medal for Research Excellence Awarded by the International Rubber Research and Development Board (IRRDB) in 2004 and 2012.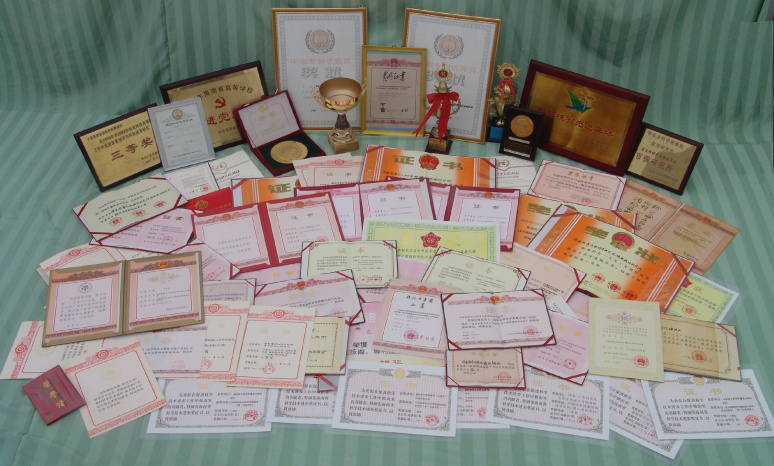 Awards