On May 8, Vincent Sivas, the Ambassador of the Federated States of Micronesia to China, paid a special visit to the Chinese Academy of Tropical Agricultural Sciences during the first China International Consumer Products Expo.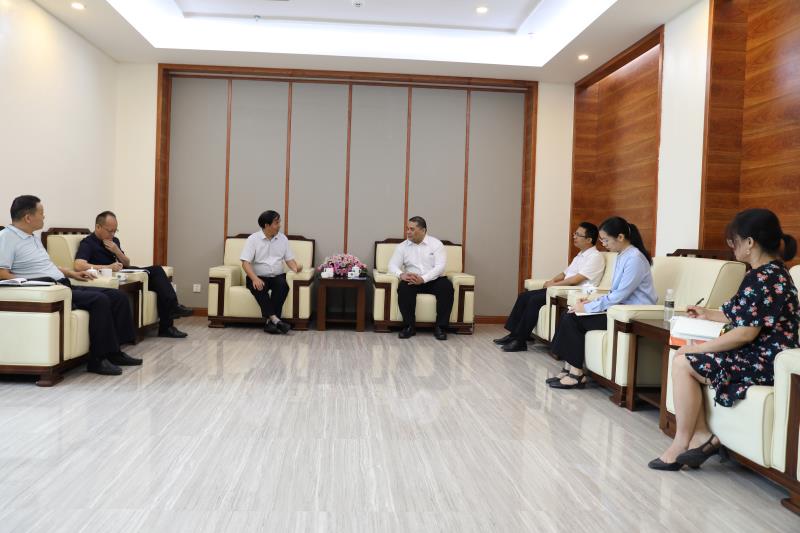 Ambassador Vincent successively visited the exhibition hall of the CATAS and Haikou Tropical Agricultural Science and Technology Expo Park to learn more about the development, achievements transformation and international cooperation of the institute, and to consult and exchange with on-site personnel on the phenomenon and solutions of low-temperature solidification of coconut oil.
At the meeting, Vice President Liu Guodao welcomed Ambassador Vincent's visit. He said that tropical agriculture, especially coconut cooperation, is an important area of high-level interaction between the two governments. In particular, since 2017, CATAS and the Federal Government of Myanmar have carried out exchanges and visits, talent training, park construction and other work around coconut, and achieved good results. At the same time, Myanmar has good prospects for development in animal husbandry, tropical vegetable planting and other fields. It is hoped that the two sides will maintain close cooperation and work together to promote relevant cooperation projects.
Ambassador Vincent thanked CATAS for the warm reception and long-term technical support, and hoped to learn more from the successful experience and advanced technology of the development of China's coconut industry, so as to better promote the export trade of Myanmar's coconut products and benefit the people. At the same time, the Embassy of the Federated States of Michigan in China is willing to play a role as a bridge and link to promote communication between the CATAS and the embassies and consulates of Pacific island countries in China and jointly contribute to bilateral and regional cooperation.
Relevant directors and experts from the International Cooperation Division, Coconut Research Institute and Tropical Crops Genetic Resources Institute participated in the exchange activities.