In order to help the member countries of the Food and Agriculture Organization of the United Nations (FAO) realizing their agricultural production potential, support small farmers and family farmers to gain full benefits from the global market, and help to achieve the United Nations sustainable development goals, in September 2021, FAO launched the implementation of the "One CountryOne Priority Product" global action on green development of special agricultural products. At present, 81 members from five major regions of the world have applied for the green development of 53 characteristic agricultural products, 63% of the countries are located in the tropics, and 54% are tropical crops.
Under this background, from November 28 to 30, 2022, FAO and the CATAS jointly organized and held the Online Training Sessions on Green Development of Special Agricultural Products for Implementation of FAO Global Action on One Country One Priority Product(OCOP) in the Tropics, aiming to share China's experience with potential partners of the action and improve their technical level of green development of tropical agricultural products.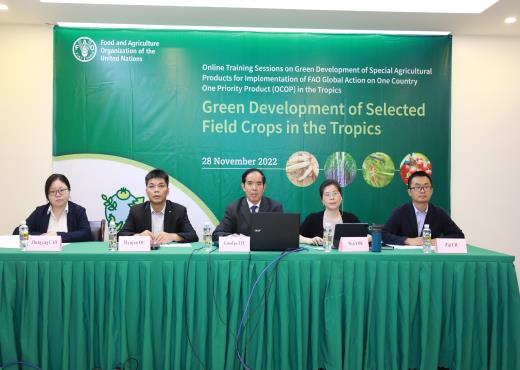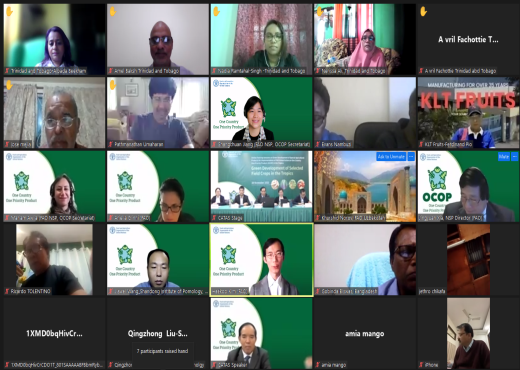 Xia Jingyuan, Director of the Plant Production and Protection Department of FAO, pointed out in his opening speech that green agricultural development is an important way to achieve the sustainable development goals of the United Nations, improve human life and promote international trade. Especially in the context of current population growth and resource constraints, human beings are faced with multiple challenges such as ecological degradation, environmental pollution and climate warming. We need to work together to face and solve problems. The training will focus on field crops, fruit crops and horticultural crops produced in tropical areas, and achieve information sharing and common development through expert display, interaction and exchange.
Liu Guodao, Vice President of the Chinese Academy of Tropical Agricultural Sciences, pointed out in his welcoming speech that the CATAS is an active participant and important contributor to South South agricultural cooperation. For a long time, it has carried out a lot of work with developing countries and international organizations in the experiment, demonstration, application and promotion of tropical agriculture. It has rich experience and looks forward to promoting the sustainable development of relevant crop industries through exchanges and discussions with participating countries.
More than 200 agricultural government officials, experts from scientific research institutions and private sector representatives from all over the world attended the training. The participants highly affirmed the training meeting and held a warm discussion on policy support, selection and introduction of fine varieties and other related issues.
The special agricultural products jackfruit, date palm, banana, cocoa and sweet cherry of Bangladesh, Egypt, Malawi, Trinidad and Tobago and Uzbekistan, the first five pilot countries of OCOP, will be launched early next year, and will share the experience, innovation and technology of the development of special agricultural products. FAO also launched the "one country, one product" global website to provide a platform for information sharing and experience summary for the action plan.
Twelve experts from the Chinese Academy of Tropical Agricultural Sciences, the Chinese Academy of Agricultural Sciences and the Shandong Fruit Research Institute made theme reports on tropical crops such as cassava, sugar cane, pepper, sweet cherry, banana, date palm, jackfruit, mango, coffee, cocoa, coconut, tea, etc.