1. Overview
Tropical Agricultural Machinery Research Institute (TAMRI) under Chinese Academy of Tropical Agricultural Sciences (CATAS), founded in 1959, located in Zhanjiang, Guangdong Province, is a comprehensive research institute for tropical agricultural engineering.

It is specialized in technology development and experiment & demonstration of tropical agricultural equipment, tropical agricultural machinery's standardization, and quality control and inspection. It focuses on Agricultural Mechanization Engineering and Recycling of Solid Wastes from tropical agriculture production process. There are 6 research sections and 4 innovation platforms, such as Sub-center of State Engineering and Technology Research Center for Key Tropical Crops, Quality Supervision & Testing Center for Tropical Crops Machinery and the Pilot Plant of Pineapple Leaf Fiber Processing under the Ministry of Agriculture of China. It offers two master programs on Mechanical Manufacturing & Automation and Agricultural Mechanization Engineering through cooperation with universities.

The institute has made 120 main achievements, including 2 National S&T Progress Awards, more than 30 provincial and ministerial S&T Progress Awards, more than 50 patents, covering the research, development and demonstration of machinery of land reclamation in tropical areas, natural rubber machinery, sisal machinery, sugarcane machinery, cassava machinery, processing machinery for coffee, coconut, and pepper, machinery for recycling and comprehensive utilization of field trash of sugarcane, pineapple and banana.

2. Contact Information
Research Office: Tel: +86-759-2859 596
Fax: +86-759-2859 234
E-mail: catas09gjhz@163.com
Address: No. 3 Huxiu Road, Zhanjiang, Guangdong, 524091, P. R. China

3. Research Areas
TAMRI aims to establish a comprehensive agricultural machinery research institute which focuses on modern tropical agricultural equipment, and whose research includes mechanization of tropical agriculture, preliminary processing of tropical agricultural products, comprehensive utilization of tropical agricultural wastes, and tropical agricultural machinery's standardization, quality control and inspection. It targets not only to carry out basic research, applied basic research and application technical research, but also to undertake personnel training, technical training and science & technology extension in tropical agricultural machinery, providing technical supports for the mechanization of tropical agriculture in the country.

The research priorities include sugarcane production mechanization, tropical agricultural field machinery, tropical agricultural product processing equipment, rural energy equipment in tropical area, tropical fibers and fiber products, marine fisheries and animal husbandry machinery and standardization, quality control & inspection for tropical crops machinery.

4. Main Achievements
The institute has made 120 main achievements, including 2 National S&T Progress Awards, more than 30 provincial and ministerial S&T Progress Awards, more than 60 patents granted, formulation of more than 30 industrial standards. The faculty developed tractor-mounted tree rooter, land clearing machine, and hole borer etc. Some machinery products were exported to aid African countries and many products won awards granted by the Ministry of State Farms and Land Reclamation.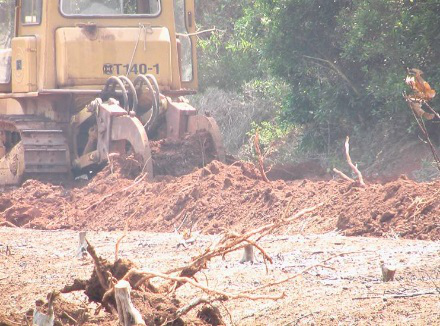 WSL-900 Root-digging and Subsoiling Machine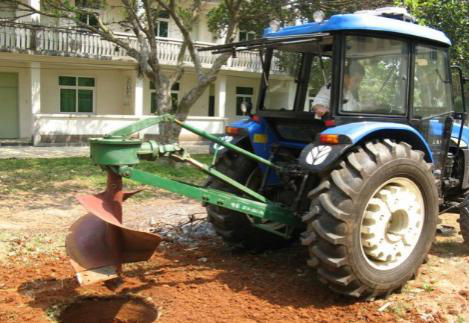 W80C Hole Borer



Coffee Wet Process System Sugarcane trash shattering machine
The faculty successfully developed series of technologies and equipment for coffee wet process, pineapple leaves comprehensive utilization, sugarcane trash shattering, cassava harvesting, dry anaerobic fermentation of solid wastes, palm oil extraction and processing, macadamia nut processing and banana leaf stalk comprehensive utilization. It also develops series of pineapple leaf fibre textiles.

Pineapple leaf fiber extraction Pineapple leaf fiber textiles