Recently, the research team of the Rubber Research Institute of the Chinese Academy of Tropical Agricultural Sciences on the comprehensive utilization of rubber wood and tropical trees has made new progress in the research and industrial application of thermal modification of plantation wood. The research systematically studied the effects of heat treatment medium temperature, heat treatment time, heating rate and other technological parameters on the surface color of rubber wood, and established a prediction model for the relationship between the technological parameters of wood heat treatment and the surface chromaticity parameters of heat modified wood. The research results will be helpful to the optimization of wood heat treatment technology and the regulation of heat modified wood color.
Surface Color of Rubber Wood under Different Heat Modification Processes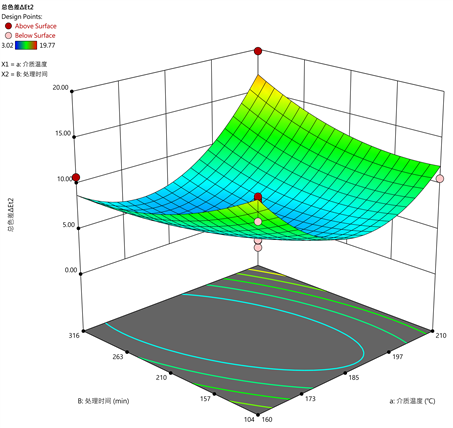 Response Surface of Heat Treatment Medium Temperature and Heat Treatment Time to Total Color Difference of Eucalyptus
The color and homogeneity stability of wood is one of the important evaluation indexes of its quality, and is also the hot spot and key field of wood science research. Heat treatment of wood at high temperature can change the color of wood and endow ordinary wood with the surface color similar to tropical hardwood, but the control and evenness of its color has always been the core issue of the industry. With the aid of FTIR, GC-MC and other chemical analysis methods, the internal relationship between the color, chemical components and technological parameters of heat modified wood was analyzed, which laid a good foundation for clarifying the color change process of heat modified wood, revealing the color change mechanism of wood and proposing the color control mechanism of heat modified wood. On the basis of the above research, the team developed two kinds of rubber charcoal flooring, teak color and black walnut color, in cooperation with Hainan Agricultural Reclamation and Forestry Products Group and Jiangsu and Zhejiang flooring enterprises, using the self-designed heat modified carbonization kiln.
The team has published 7 related papers and 4 patents (2 invention patents) in the research of wood high-temperature thermal modification. Research achievements on color regulation were published in Wood Research under the titles of Effect of heat treatment on the surface color of rubber wood (Hevea brasiliensis) and Impact of heat treatment on the surface color and glossiness of young eucalyptus. Jiang Huichuan, Assistant Researcher of the Rubber Research Institute of the Chinese Academy of Tropical Agricultural Sciences, and Lu Cuixiang, Senior Engineer of the Forestry Research Institute of Guangxi Zhuang Autonomous Region, were the first author of the paper respectively, and Jiang Huichuan was the corresponding author. The research has been supported by Hainan Natural Science Foundation, the special fund for basic scientific research business of central public welfare research institutes, the open project of provincial and ministerial key laboratory of Rubber Research Institute of Chinese Academy of Tropical Agricultural Sciences, and the open project of Guangxi key laboratory for cultivating fine timber forest resources.