On December 5th, the closing ceremony of 2017 Training Course on Spice Cultivation and Processing Technologies for Sri Lanka, which was sponsored by the Ministry of Commerce, People's Republic of China (MOC) and organized by CATAS, was held in Xinglong, Wanning City, Hainan Province. Du Zhaojun, Division Chief of Training Center, MOF; Wang Hongyi, Deputy Division Chief, Department of Commerce, Hainan Province (DOC); Liu Guodao, Vice President of CATAS; and Tang Bing, Director of Spice and Beverage Crops Research Institute, attended the closing ceremony. Huang Guixiu, Director of Division of International Cooperation of CATAS chaired the ceremony.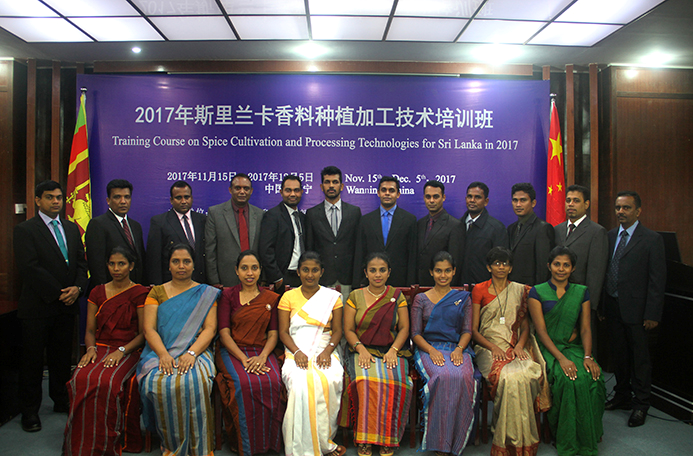 In the ceremony, Liu Guodao on behalf of CATAS showed his gratitude to MOC and DOC for their great support to the training course, and highlighted that this training course would create good opportunities for R&D in tropical agriculture between China and Sri Lanka, and promote closer cooperation in R&D in tropical agriculture between the two countries.
Du Zhaojun pointed out that China pays highly attention to the relationship between China and Sri Lanka, commended Sri Lanka for their active participation in Belt and Road Initiative, and hoped to expand mutually beneficial cooperation, strengthen political mutual trust and deepen the friendship between people of the two countries, and to boost the development for a sincerely mutual assistance and long-lasting strategic partnership.
  On behalf of the all trainees, Mr. Jaggers expressed his appreciation to the Chinese government and CATAS for the opportunities of training course provided, which would be of great significance for the career development of participants and have positive effect on the development of spice industry of Sri Lanka, and hoped that the Government of China could keep providing such opportunities for Sri Lanka.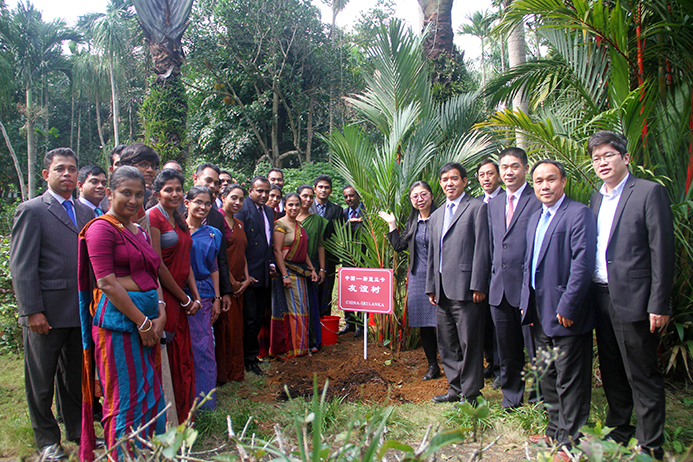 In the closing ceremony, Du Zhaojun and Liu Guodao presented each participants a book entitled "CATAS Tropical Agriculture Going Global Technology Information Sheets Portfolio". After the ceremony, all participants took a group photo and planted the friendship tree between China and Sri Lanka to wish an ever-lasting friendship between the two countries.
The training course lasted for 21 days. A total of 20 participants including government officials from the Ministry of Finance & Planning and Ministry of Traditional Industry & Small Enterprises Development and representatives from enterprises of Sri Lanka received training in the course. All participants were exposed to the latest scientific research achievements in China in such crops as pepper, vanilla, coffee, cocoa, and to practical technologies such as crop breeding, high-yielding cultivation, pest control and product processing. All participants were given the chance to visit the Tropical Agricultural Science and Technology Achievements Exhibition, Boao Forum for Asia, Li and Miao ethnic minorities Culture Village of Hainan Province, Nanshan Temple and other scenic spots to enjoy the charm of Chinese traditional culture and the hospitality of the Chinese people.