On 16th June, 2018 Overseas Training Course on Production and Processing of Cassava and Planting Technology of Tropical Fruit Tree for The Republic of Congo kicked off in Ngo County, Plateaux Region, Republic of Congo.
The training course was sponsored by the Ministry of Commerce, China, organized by Chinese Academy of Tropical Agricultural Sciences, co-organized by China-Aid Congo Agricultural Technology Demonstration Center. At the opening ceremony, the representatives of Congo showed off were Ms. Roselyne Dibala Ilendo, Director of the Department of International Cooperation, Ministry of Agriculture, Livestock, Fisheries; Mr. Aloise OMANBI, the head of the Ngo of the Plateaux Region, Ms. Sylvia NGAKABI, Mayor of the capital of Ngo, Mr. ONGOUALA Paul, Director of the Demonstration Center; and the Chinese representatives were Chen Yeyuan, Director of Tropical Crops Germplasm Resources Research Institute of CATAS; experts from the national cassava industry technical system, the representative of China- Aid Congo Agricultural Technology Demonstration Center of CATAS. Some 150 participants attended the opening ceremony.
Opening Ceremony
The training course lasted for 20 days for the training of 200 local technicians and farmers in cassava and tropical fruit trees. It was the largest overseas training course organized by CATAS under the foreign aid training courses programme of the Ministry of Commerce. The model of the training course included classroom lecture, hands-on practical operation exercises, group discussions and exchanges to enrich training activity for better training outcome.
  At the opening ceremony, Director Chen Yeyuan gave a brief introduction to the background of the training course and the general profile of CATAS, and hoped that the participants could apply their knowledge learned from the training course into practice to boost innovative agricultural technological development.
The government representative of the Ministry of MAEP stated that the theme of this training course was in line with the key areas and objectives under the national development program, which would contribute to achieve national food safety and nutrition security.
Local government officials of Ngo County hoped that the participants study hard so as to use the knowledge and experience learned to change the status of agricultural production in the Ngo county, and he expressed his gratitude to the Chinese government for generous assistance and to the Chinese experts for their work and efforts.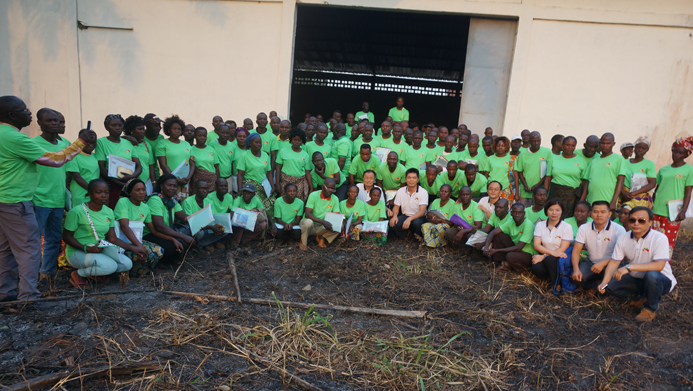 Participants and lecturers together